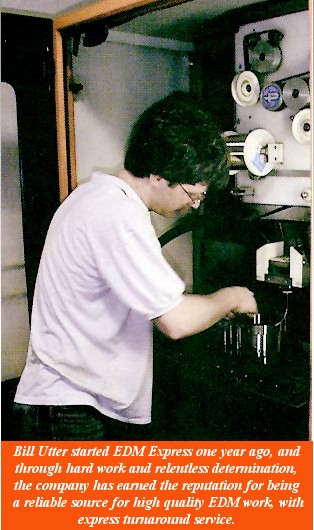 Bill rationalized that "time equals money", and if he could save his customers time, with fast, reliable delivery on their jobs, along with high quality work - he could save them money. To accomplish that, he planned to run his machine 24 hours a day, 7 days a week, with door-to-door pick-up and delivery, if necessary. And the name he selected for his new company was "EDM Express"! Bill had a solid plan, and a personal commitment - now all he needed was a Wire EDM.
Financing & Starting Up
Armed with an in-depth business plan, Bill looked around for financing, and finally managed to put everything together. He decided to stay with the brand and model of Wire EDM that he was experienced with, a Charmilles Robofil 290. Bill gives a lot of credit to the local machine dealer, Osgood Machinery, for helping him get started. Soon, a suitable place was located, and EDM Express was in business!
As with any new operation, you take any job to keep the machine running. Bill noticed that the type of work that was finding its way to his door, was generally last minute emergencies - where the key requirement was to get the work done as quickly as possible. To handle that situation, he ran his machine 24 hours a day, 7 days a week - only stopping long enough to set up the next job. This schedule wreaked havoc with his personal life. However, his reputation as a reliable source for last minute work grew rapidly.
In order to cope with the broad mixture of incoming work, Bill needed to be as flexible as possible in setting up the work in the machine. Every minute spent on set-up, was a minute that the machine was idle, and it was imperative to the new company that the machine should run at maximum capacity. Bill rationalized that, in order to keep set-up time to a minimum, some type of fixture palletization would be needed. He decided to mount a 3R Macro pneumatic chuck in his machine, with a duplicative chuck in his inspection area. He could then pre-set the next job to be worked on, while the machine was still busy cutting. This strategy provided him with an accurate platform in his machine, to quickly mount pre-aligned parts, thus reducing set-up time to a minimum in most cases.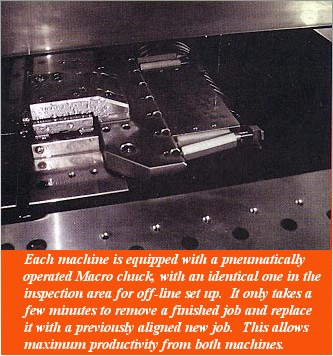 One Machine Was Not Enough
With only one machine, it meant that every single job had to pass through that machine. And when a long job was running, everything else stopped. As more work came in, 24 hour-per-day running was a necessity. Bill was sleeping on a cot in the shop more often, in order to be able to accommodate his customers. However, it wasn't long before he had enough work coming in to justify a second machine. The new machine was the same make and model, equipped with the same style of Macro chuck for rapid set-up.
Page 22, EDM Today, July/August 1998 Issue
Previous Page
Next Page